70-Year Member Honored
Posted on: August 12, 2019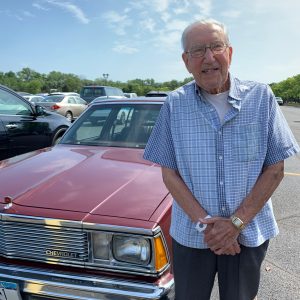 The Greater Rochester Association of REALTOR® (GRAR) honored Gene Cassata for 70 years of membership at GRAR's annual 30-Year Member Luncheon on August 7, 2019.
Mr. Cassata got his real estate license during his sophomore year at Syracuse University. He liked the profession so much, he decided not to go back for his junior year. He has practiced real estate ever since, working with 4 generations of one family among many other happy customers. He was recently contacted by the children of another couple he'd worked with 60 years ago when they purchased their family home. It was Gene, the children decided, who should sell the home after their father recently passed away.
For 23 of his 70 years in real estate, Gene owned and operated Gene Cassata Realtors. He was the GRAR REALTOR® of the Year in 1986 and received GRAR's REALTOR® Honor Society Award in 2008.
To say Gene volunteered a large portion of his time throughout his life would be an understatement. He not only participated on and chaired multiple GRAR committees, his other real estate volunteer roles included:
GRAR Board Director,
Vice Chair of the NYSAR Professional Standards Committee, and
NYSAR Director.
Outside of the real estate world, Gene was on the board of the Al Sigl Center for 10 years and became a charter board member for CDS where he served for 17 years.
What became apparent in talking with Gene about his career and his life is that he takes good care. He has taken good care of people – family, clients, and the many who benefited from his volunteer service. He has taken good care of things. He has a pristine file of significant achievements and thank you notes, and he has a 1981 Chevy Malibu Classic that he bought new and has driven only 63,000 miles in the last 38 years.
Gene attributes his referral-grown real estate business that is ongoing today to the following approach that he employs … better said, he embodies:  "Give the people more than they expect and they will remember it."
He added, "Give them less and they will remember that, too."
Gene was joined at the luncheon by his son, Tom Cassata, an honorary NYSAR member, and his grandson, Steve, who is exceedingly proud of his grandfather.