More than 29,000 ZIP Codes were analyzed to determine the 8th annual ranking of areas with fast-selling homes and high buyer demand
ROCHESTER, NY (AUGUST 16, 2022 ) – Brighton, one of the communities served by members of the Greater Rochester Association of REALTORS®, has been ranked No. 1 out of 29,000 ZIP Codes analyzed in the eighth annual Realtor.com® Hottest ZIP Codes Report released today. In the top 10 ZIPs, homes sold in just over a week (8 days) and received nearly four times (3.7) more buyer views than a typical U.S. listing.1
A key theme of this year's ranking is demand from out-of-ZIP home shoppers, driven by factors including relative affordability and convenient travel to bigger economic and population centers. The 2022 Hottest ZIP Codes in America, in rank order, are:
14618 Brighton, N.Y.
03062 Nashua, N.H.
43085 Worthington, Ohio
03038 Derry, N.H.
04062 Windham, Maine
18017 Bethlehem, Penn.
37604 Johnson City, Tenn.
03106 Hooksett, N.H.
02760 North Attleboro, Mass.
04210 Auburn, Maine
"Brighton's close proximity to the city of Rochester, easy access to shopping and restaurants, and a variety of home styles and price points make it a perennially high-demand area of our region," says Lanie Bittner, local real estate agent and President of the Greater Rochester Association of Realtors®.
"The region as a whole has become a popular relocation destination due to the affordability of real estate relative to other metro areas, recent job growth in the medical, optics, imaging, and tourism industries, and the vast number of recreational activities that are within a two-hour drive or less. Not to mention, the natural beauty of Rochester and the Finger Lakes," Ms. Bittner added.
"With rising inflation and mortgage rates squeezing monthly housing budgets, this year's determined buyers are breathing new life into competition for homes in these top 10 ZIPs. Our 2022 Hottest ZIPs ranking illustrates how many Americans are redefining their priorities to achieve homeownership while building their careers by trading downtown life for relatively affordable areas with reasonable part-time commutes to big cities," said Danielle Hale, Chief Economist for Realtor.com®.
Key trends driving homebuying demand in the 2022 Hottest ZIPs
Many Americans are feeling the strain on their finances due to the whirlwind of economic shifts that have occurred so far in 2022, including mortgage rate hikes. Combined with record-high home prices, rising affordability challenges are forcing many buyers to get creative if they want to beat the competition without breaking their budgets.
Home shoppers are doing just that in the 2022 Hottest ZIP Codes, with nine of the top 10 making the list for the first time in the ranking's eight-year history, including eight northeastern ZIPs making their debut. On average across the top 10, 13.4% of homes were built before 1939, compared to just 11.6% nationwide.
The top 10 attract home shoppers from big cities on the East Coast
Many of the top 10's new entries are attracting home shoppers looking to relocate from high- priced big cities on the East Coast, based on migration patterns among prospective buyers viewing Realtor.com® listings. In the first half of the year, at least one big East Coast city – Boston, New York and D.C. – was among the top five sources of buyers viewing listings in all 10 of the hottest ZIPs.
Buyers in these major metros are exploring ZIPs further away than in prior years, enabled by more widespread adoption of remote work. Even for those with hybrid schedules, many of this year's hottest ZIPs provide the perfect combination of relative housing affordability and a reasonable part-time commute to big city business hubs. From all six New England ZIPs on the list, Boston can be reached in 2.5 hours or less.
Affordability challenges drive demand in relatively small ZIPs offering high-value homes
As a result of rising inflation and higher costs for housing and everyday expenses, homebuyers have set their sights on areas that offer good bang for their buck, making value a key theme among this year's hottest ZIPs. Controlling for home size, the average price per square foot in the top 10 was 8.7% lower than in their surrounding metro areas in June.
Among the ZIPs on this year's list, the average asking price ($432,000) was 4.0% lower than the U.S. median listing price in June ($450,000). At the same time, driven by the rise in demand, home prices across the hottest ZIPs grew at a faster year-over-year pace (+18.6%) than listing prices nationwide (16.9%).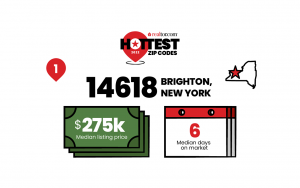 Aspiring millennial homeowners are financially prepared for success in the hottest ZIPs
Now aged between 25 and 44 years old, millennials are a key cohort of aspiring homeowners, whether first-time or repeat buyers. This generation is ready and willing to pursue homebuying opportunities in the hottest ZIPs, where they have the advantage of strong financial qualifications. Millennials are entering the top 10 with incomes that are higher than the national averages among those aged 25-34 ($83,782 vs. $70,510) and aged 34-45 ($100,966 vs. $89,365). On average, buyers in the hottest ZIPs are well-qualified with higher credit scores (742 vs. 728) and larger down payments (15.0% vs. 14.2%) compared to the typical U.S. home shopper.
Millennials' strong financial footing is paying off when it comes to achieving homeownership in the top 10. In fact, a higher share of millennials have successfully become homeowners in these ZIPs (57.1%), on average, than in the U.S. overall (51.3%).
Realtor.com®'s Methodology
Realtor.com® analyzed listings data on over 29,000 ZIP codes to determine its Hottest ZIP Code rankings, which are based on January-June 2022 averages of: 1) demand, as measured by unique viewers per property on Realtor.com®; 2) the pace of the market as measured by the number of days a listing remains active on Realtor.com®; limited to one ZIP Code per metropolitan area and ZIP Codes with at least 15 active listings each month. Time frames for metrics not factored into the ranking as noted, e.g. listing price trends based on June 2022 data.
1 In the first half of 2022 (Jan.-June), on average. See methodology below for additional details.