Jen Gugino, 2017 Fran Henty Award Winner
Posted on: November 28, 2017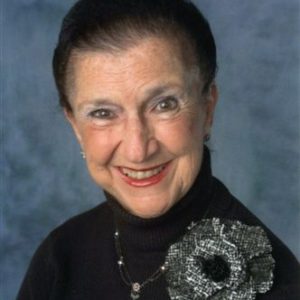 Jen Gugino is the 2017 Fran Henty Award winner and one of those people you are SO glad to have met when your paths cross.  She is 89 years young.  I hesitate to use that cliché, but there's no other way to say it.  "Old" is not a word that fits anywhere near a sentence with Jen's name in it.
At the age of 49, Jen was a mother of six, wife of the love of her life, and a perennial volunteer at their children's schools along with many civic organizations.  She remained all of those things after that age, and added a very successful career in real estate to her life.
It was the guidance of her brother, commercial real estate professional, Albert Monile, which led Jen to real estate.  The family had lost two close friends at young ages.  Jen wanted to be sure she would be able to provide for her children if something were to happen to her husband, Dr. Russell Gugino.
So, the woman who says she looks at everyone she meets as a friend set out at a "way of life", not a profession, and a "continuation of (her) need to help people".  For forty years and counting, Jen has strived to conduct her real estate business with the "highest level of honesty, integrity, and with a firm and valued sense of family".  She says she has "worked to be the best in this field, not always with the financial rewards, but with the satisfaction in knowing that I have touched people, served people, and cared for people … satisfying their dream, placing the KEY to their happiness in their hands … opening the door."
Ten years ago, together with her daughter and son-in-law, Jen co-founded Angels of Mercy.  The mission of this organization is to "help women and girls achieve freedom, dignity, and restoration."  Angels of Mercy collects clothing and provides it to women and children in need in the U.S., India, Cambodia, Guatemala, Uganda, and 60 other countries because children dressed in rags are perceived to be easy targets for the sex trafficking industry.  In addition, the organization is dedicated to helping women locally who have been victims become "victors".
Although Jen's real estate career began as a back-up plan, she embraced it fully, as she does everything, and she has undoubtedly been a positive force for many along the way.
You'll be happy to know that she and Russell were given 66 years of their "fairy tale life" together (Russell passed away earlier this year) along with their 6 children, 12 grandchildren, and 14 great grandchildren.
Rock on, Jen!