Continuing Education Requirements
All New York Real Estate licensees are required to successfully complete 22.5 hours of approved Continuing Education within the two-year period immediately preceding license renewal, including:
Fair Housing – at least 3 hours of instruction pertaining to Fair Housing and/or discrimination in the sale or rental of real property or an interest of real property
and
Agency – at least 1 hour of instruction pertaining to Agency (2 hours for the first renewal cycle)
The Department of State conducts random audits of licensees to verify compliance with the education requirements. The course certificates received upon completion of a course should be maintained by the licensee in the event the individual is audited. Failure to prove completion of the requisite education could result in a fine, suspension, or revocation of a license. To ensure compliance, it is important that licensees understand the required number of hours of education and the time frame within which it must be completed.
---
** Note: Code of Ethics is a separate requirement.
Code of Ethics is mandated by NAR and required in order to remain a member of GRAR/NYSAR/NAR. It is not a requirement for license renewal with the New York State Department of State. Members must take a minimum of 2.5 hours of Code of Ethics instruction by December 31 of the biennial cycle (2020, 2022, 2024, etc.)
NEW NYS Agency CE Requirement
The New York Department of State (518-474-4429) also requires that all licensees take 1 hour of Agency in their 22.5 hr. CE each renewal period, effective January 01, 2017. Anyone renewing their license needs to have taken both the 3 hr. Fair Housing requirement AND the 1 hr. Agency requirement.  Licensees renewing for the first time must complete 2 hours of Agency in their 22.5 hr. CE .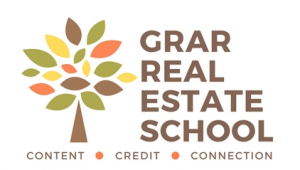 GRAR Real Estate School classes that currently fulfill the 1 hr agency requirement:
Backstage Pass
Shades of Grey
Multiple Offers
How to Prevent Transactions from Dying
Code of Ethics
Agency Disclosure
Agency – the Big Picture (on-line HONDROS)
45 Hr. Brokers Licensing Course
Any salesperson who successfully completes an approved broker qualifying course (which requires passing the final exam), within their current term, will receive Agency continuing education credit for completion of that course.
Exemptions
There are two exemptions from the continuing education requirements:
Grandfathered Broker: Any licensed real estate broker who is engaged full-time in the real estate business and who has been licensed prior to July 1, 2008 for at least 15 consecutive years (combined licensure as a salesperson and a broker) and has maintained continuous licensure (no breaks in licensure for reasons such as late renewal submission).

The burden of proof of fifteen years of licensure lies with the broker.
Failure to renew a license on time will be considered a break in service and the "consecutive years" will begin again with the new license date. This means that the licensee will have to resume taking continuing education
If licensed after July 1, 2008, then they are not ever going to be eligible for this exemption.or

Licensed Attorney: An attorney admitted to the New York State Bar who holds a real estate broker's license.
Appraisal Continuing Education
Appraisal licensees are required to take twenty-eight (28) hours of Department of State approved continuing education every two years within their license renewal period. Continuing education credits can be earned via in-classroom instruction or through approved distance learning courses. Additionally, all licensed or certified real estate appraisers must successfully complete the 7 hour Ethics & Standards of Professional Practice program every two years. Appraisers may only receive 7 hours of CE credit for the Ethics & Standards of Professional Practice course once during the 2 year period.
Courses cannot be repeated within the same license period.
In order to obtain a certificate of completion for Continuing Education, appraisers must attend 100% of any course or program that is 2 to 7 hours in length. Courses or programs that are 8 to 20 hours in length require 80% attendance.
For more information, please contact the GRAR Education Department at 585-292-5000 or GRAReducation@grar.net.