This page is dedicated to information and communications from the Greater Rochester Association of REALTORS® and includes information from NYSAR, NAR, and New York State.
---
Most Recent GRAR Updates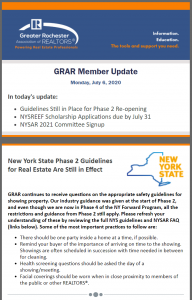 Click to view the complete update
Earlier GRAR Newsletters on Phase 2 Reopening
Click to view the updates in entirety
---
NYSAR Guidance for Phase 2 Re-opening
June 1, 2020
Guidance to in-person contact with consumers
Brokers are encouraged, but not required, to conduct remote walkthroughs rather than in-person walkthroughs (e.g. recorded/live video), where possible.
Whenever possible, activities should be conducted remotely with consumers.
Whenever in-person contact occurs with a consumer, the licensee should be wearing an appropriate face covering and maintain social distancing.
Interaction with consumers
Licensees must limit in-person gatherings with consumers to the greatest extent possible and use other methods such as video or teleconferencing whenever possible. When videoconferencing or teleconferencing is not possible, licensees should hold meetings in open, well-ventilated spaces and ensure that individuals maintain six feet of social distance between one another and wear appropriate face coverings.
Licensees should avoid driving in the same car with prospective tenants/buyers. If this cannot be avoided, face coverings must be worn by everyone in the vehicle and frequently touched areas of the vehicle should be cleaned and disinfected.
In-person showings
May only be conducted in unoccupied (if there is an occupant, they must not be present) and vacant property.
Licensee must limit the number of individuals viewing the property.
Licensees should schedule all showings in advance, whenever possible.
Licensees and consumers must wear an appropriate face covering at all times.
Gloves and shoe coverings can also be required by the owner or broker.
Brokers must provide appropriate face coverings to licensees and consumers.
Licensees should not dispose of PPE at the property being shown.
Consumers should be instructed to only touch essential surfaces, such as the use of a handrail to go up or down stairs.  Consumers should be instructed not to touch other areas or surfaces including cabinets, countertops, appliances etc.
Licensees are responsible for cleaning and disinfecting high touch surfaces such as doorknobs and handrails.  As a best practice, licensees should disinfect every surface that was touched during a showing.
Showing times should be staggered so as not to have the next scheduled buyer/tenant waiting outside for the current showing to end.
As a best practice, only one party should be in the property at a time. If more than one party is inside the property at the same time, 6 feet of distance must be maintained at all times between individuals, and face coverings must be worn (face coverings are already mandatory).
Licensees and buyers/tenants are encouraged not to bring young children or extraneous guests to property showings, when possible, or leave attended children outside.
Licensees must screen each seller/buyer/landlord/tenant prior to a showing.  NYSAR strongly recommends that such screening be done remotely (phone, email etc.).  The following questions must be asked as part of the screening process:
knowingly been in close or proximate contact in the past 14 days with anyone who has tested positive for COVID-19 or who has or had symptoms of COVID-19,
tested positive for COVID-19 in the past 14 days, or
has experienced any symptoms of COVID-19 in the past 14 days.
 Require seller/lessor to disclose if they become symptomatic and/or they test positive for COVID-19 within 48 hours of the last visit to their property.
Require buyer/lessee to disclose if they become symptomatic and/or they test positive for COVID-19 within 48 hours of the last visit to a property.
Open Houses
Although the Guidance Documents permits open houses, it includes restrictions.
Only one party may be inside the property at a time.  The licensee needs to be sure no other parties can enter.
Licensees choosing to hold a traditional open house run the risk of multiple parties congregating outside the property waiting for their turn to view the property or attempting to enter the property while another party is inside.  Licensees should make every attempt to schedule showing times for an open house to avoid such issues.
Licensees should not dispose of PPE at the property where the open house is held.
---
Important Pages
NYSAR Re-opening FAQ NYSAR COVID Updates New York State NAR
---
Other GRAR Coronavirus-related Member Updates

March 20 Update – New York State on PAUSE going into effect
March 19 Update – Guidance from GRAR on the use of a COVID-19 Addendum
March 19 Update – GRAR Member Update – US Congress Passes the "Families First Coronavirus Response Act"; NAR Flash Survey
March 12 Update – GRAR Member Update – NAR Guide for REALTORS; CDC Protocols 
---
Learn more about the NYS on PAUSE Executive Order: 
---
Other Resources and Information
The NYS Department of Labor is reminding businesses of its Shared Work Program that can provide an alternative to laying off employees during business downturns by allowing workers to work a reduced work schedule and collect partial unemployment insurance benefits for up to 26 weeks. Instead of cutting staff, you able to reduce the number of hours of all employees or just a certain group. Learn more
The Department of Labor is working hard to keep up with the new demand for Unemployment Insurance and has instituted new rules that include extended hours and restrictions about when to file based on your last name. Learn more
The U.S. Small Business Administration has approved a statewide disaster declaration for New York. Eligible small businesses may now apply for SBA Economic Injury Disaster Loans (EIDL) online. Learn more
ESD (Empire State Development) has set up a web portal and FAQ page for individuals and businesses with business-related COVID-19 issues and questions. Learn more
---
Education and License Renewal
March 16, 2020 Email from Duncan MacKenzie, NYSAR CEO

The coronavirus situation has certainly uprooted many aspects of our lives. One impact on NYSAR members is losing access to continuing education needed for license renewal due to in-class course cancellations.
Current law provides for hardship extension waivers when licensees are unable to complete their continuing education requirement for license renewal.  We are happy to report that the NYS Department of State (DOS) will grant six (6) month waivers to students who are unable to complete their education due to the state of emergency.
Licensees requiring a waiver must provide evidence of a bona fide hardship precluding completion of the continuing education requirements prior to the time the renewal application is to be filed.  A licensee seeking such a waiver shall go through the renewal process using eAccessNY.  When filling out the renewal application, the licensee would indicate that they did not complete the required continuing education.  Choose the option to upload documents and provide: 1) all documentation demonstrating such hardship and 2) a written request for such waiver.  The DOS will notify you if the waiver was granted.
The DOS is now working on a notification that will be posted on their website and sent via email. Please look for the notification from DOS and further updates from NYSAR.
NYSAR will continue to monitor the impact of the state of emergency on our members. Please look for email and social media alerts, and check NYSAR.com often.
Regards,
Duncan MacKenzie
NYSAR Chief Executive Officer